Building Plots
Self Build Land is part of the UK Land Directory network and the number one portal for building plots for sale across the UK. Here you can browse the building plots for sale as well as find valuable resources and the latest news.
Lots of people dream of building their ideal home, so understandably, land with any form of planning permission is the most expensive and most elusive.
As a rough guide, if you are building your own home, the land should be around 30% of the total cost. For example, if the final value of your home was to be £300,000, you would expect to pay around £100,000 for the land.
Finding a building plot is a time consuming task and you are unlikely to find anything with any form of planning permission for much under £100,000. Usually, land is marketed locally through an Estate or Land Agent. Sometimes properties are sold that have the potential to a tear-down and rebuild, or to renovate the property with a building plot on the side. Local developers or builders usually snap these up but they can still be found by the savvy individual if you are prepared to take the time to look and establish a good working relationship with local estate agents.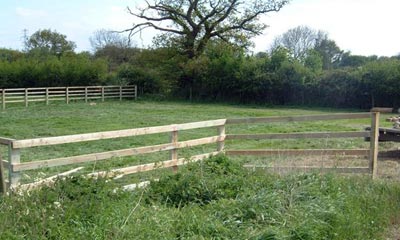 Auctions too can offer opportunities to the self-builder, but again these are becoming increasingly difficult to find and if several bidders become involved the price can go up and up, so if you take this option, set your budget and stick to it.
The third option is buying a building plot in the right location for you. There are a number of companies that offer access to a database of building plots. These fall into two categories, those with planning permission and those without. Any land that has planning permission will be approximately 10 times the price of land without planning permission.
---
Cory & Co
A local estate agent that also offers building plots for sale in Essex. www.cory-and-co-properties.co.uk
Tel: 01255 507000
---
Buildstore
Buildstore have a dedicated team who source land across the UK. They only list land that is suitable for self build projects. A subscription, gives you access to a database of building plots throughout the UK. Private sellers are also listed on the database. www.buildstore.co.uk
---
Build the Dream
Build The Dream is a site produced by Travis Perkins, one of the UK's leading builders merchants, to assist with self-builds, renovations, extensions and improvements. A 6-month subscription, gives you access to a database of building plots. www.buildthedream.co.uk
---
Development Land for Sale
View and advertise land for sale and new property for sale in the UK and abroad. www.developmentlandforsale.co.uk
---
Halford Invest
Offer a range of properties ranging from residential, rural houses to land and farmlands in and around London. Details of different types of properties can be found on the website. www.halfordinvest.com
---
Southern Property Consultants
Building land with and without planning permission in the south of England. www.spc-site.co.uk
---
Plothound
Offers building plots,conversions and renovations throughout the UK and internationally that are suitable for self-builders and renovators. www.plothound.com
---
Shinglebank
Shinglebank assess the development potential of your plot and guide you through the planning procedure. www.shinglebank.co.uk
---
Boleyn Properties Ltd
Are a land procurement consultancy providing development land solutions. This may involve finding land for a house builder, property investor or housing association or selling land on behalf of owners to purchasers that have the means and desire to meet timescales. www.locationlocationlocation.co.uk
---
Plot Finder
Plot finder lists building plots, barns, renovation and conversion sites available in England, Scotland, Northern Ireland and Wales. www.plotfinder.net
---
Urban Agenda
Urban Agenda offer consultancy services to landowners and developers that are active in the UK property industry. We buy and sell land and buildings, and obtain planning permissions that add real value for our clients. www.urbanagenda.co.uk
---
Looking for a particular type of land? Use the link below to find companies offering certain types of land for sale.
Agricultural Land for sale
Forestry Land for sale
Farmland for sale in England
Development Land for sale
Wood Land for sale
Wood Land for sale
Building Land for sale in London