Partying in Woods
Tanya and Dominic of North London invited me to the 10th birthday party of their eldest daughter Charlotte last week. The Birthday party was to be held 4 miles north of their house in their recent purchase - a 14-acre wood.
On my arrival it was clear that they had already made their mark on the woodland - there was a zip wire stretched between two trees, a large adult sized trampoline in a clearing and three tree houses in selected trees, each about 20 foot above our heads.
The surprise and excitement on the faces of the 25 other members of Charlotte's school class was clear to see on their arrival. A good proportion of the parents decided to stay, and on chatting with them it was clear that they were also impressed that Tanya and Dominic owned their very own wood. David, one of the Fathers commented that in this day and age when we have childhood obesity and new houses built with the smallest of gardens, buying your own wood makes perfect sense.
After an hour of climbing, sliding and chasing (adults included) we all sat down on some newly purchased "pub benches" to eat our woodland picnic. This was then followed by a game of treasure hunt (the prize was found in the hollow of a tree trunk) and two of the longest games of hide and seek which I have participated.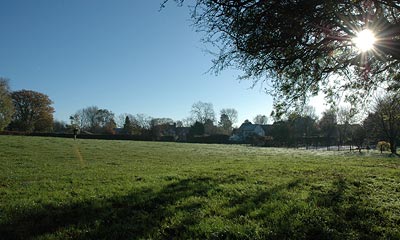 The parents of these children though were clearly not viewers of UKLandDirectory, as when asked about the sale value of the woodland, their estimates ranged from £250,000 to £500,000 - a long way from the £110,000 that was paid. Dominic was pleasantly surprised on my reporting this back though he said that everyone now thought that he had gone up in the world now that he was a "land owner".
Sitting in the kitchen of Dominic and Tanya's north London semi, having a well-deserved cup of tea after the party, I asked what had made them purchase the wood. Dominic pointed to their small rear garden and explained that he had purchased a large trampoline for the children only to find that it would not fit. He was then horrified to see the near £1,000 price tag of a climbing frame, which he decided to replace the trampoline with.
"Purchasing 14 acres woodland, a short drive away all of a sudden made perfect sense. What is the chance of land in Hertfordshire going down?" Dominic asked rhetorically. A £1,000 climbing frame is worth nothing other than firewood five years on, where as our wood will have probably increase by £30,000.
Dominic did admit that he was lucky to hear that the woodland was for sale (a chance conversation with a local farmer in a pub) and that he had the cash available (as building societies do not give mortgages on woodland) following an inheritance the previous year. Woodlands close to London rarely come onto the market and don't tend to be widely advertised (as Estate Agents make more commission on selling a £500,000 house than a £110,000 woodland).
Dominic and Tanya have big plans for the wood, Tanya wants to encourage the spread of Bluebells, Dominic wants to clear the brambles whilst Harrison, their youngest son, is keen to build a "real tree house" (not just a platform) and to fish in the steam running on the southern edge of the wood. They are allowed to erect a shed in the wood and Dominic is presently looking into the biggest one he is able to purchase and how to arrange its transportation into the wood. They are also allowed to take a proportion of wood from the woodland, which they all ready doing to feed their wood burning strove.
They both still feel strange that two "Londoners" now own their own piece of countryside but Tanya is certain that the purchase of the woodland has made them all more environmentally aware, with the children showing lots of interest in the woodland flora and fauna. Harrison also points out that he is now the best tree climber in his school.
And the biggest down side to owning the wood... Dominic says that he feels that he will now have to purchase a 4x4 so that he can venture further into the woodland in the car.
Jun 06