Garden grabbing developers
Land is a rare commodity. Price rises of 762% over the last 20 years confirm that it is becoming increasingly sought-after.
Savills - Autumn 2005
I was interested to see that Greg Clark, Conservative MP for Tunbridge Wells, is introducing a bill to Parliament to confront the problem of "garden grabbing" in which developers acquire a large detached house, knock it down and then pack an estate of small new homes onto the plot (Telegraph 28 Jan 2006). Local authorities say that there is virtually nothing that they can do virtually nothing to stop these applications because gardens are surprisingly considered by planners to be "brownfield" land i.e. previously developed instead of green field land, as you might expect.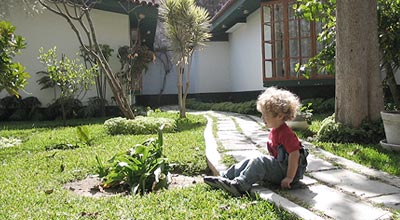 The fact that our houses are becoming smaller was also mentioned in the Telegraph on 27 Feb 2006 under the heading "An Englishman's home is a broom cupboard". The article mentions that despite the fact that 80% of us live on just 10% of the land, proposing the use of just 1% or 2 % more land to provide affordable family homes for more people is still considered political suicide.
Our current fear of development means not only do we not build enough homes but that when we do build we prefer to do it within towns and cities. The view is that these bits are spoilt anyway, so it doesn't matter if we spoil them a bit more.
Unfortunately this often means building on the few green spaces that most of us ever get to appreciate - city centre gardens, playing fields allotments and parks. Our phobia about building on edge of town land that is defined as "green field" is leading to the destruction of the urban environments in which most people live (as the planners are happy to build on green lawns that they define as "brownfield").
The UK population has now passed 60 million (Independent 21 Oct 2006) and Mr Prescott wants to build 1.1 million homes across the South East over the next 10 years to cope. Whilst, for political reasons, he is trying to build most houses on brownfield sites he has already been accused of "environmental vandalism" after it emerged that building on greenbelt has soared 60% since Labour came to power. (Daily Mail 24th Feb 2006)
Mr Prescott is finding however that brownfield sites are in short supply so that any excuse to turn a green lawn into a "brownfield" site is being used. On 24th Feb 2006 the Daily Mail reported that Village cricket pitches and golf courses could be concreted over as part of John Prescott's plan to build a million new homes. The Deputy Prime Minister's Department is trying to push through planning rules that will make it easier to build on green areas with only one small building- such as a sports pavilion - which will be considered to be "brownfield".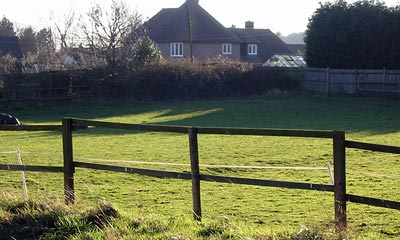 Even with the new definition of "brownfield" actually meaning a cricket pitch John Prescott may still have problems finding the available land. Savills Autumn 2005 research document asks where the future land supply is to come from; asking is brownfield land really the answer? The conclusion is a NO and it concludes "If new housing supply is to be maintained, let alone increased, a politically unpalatable fact has to be faced. Alternatives to brownfield sites will have to be found."
We do seem to be in a strange world where on one hand John Prescott, the Deputy Prime Minister, upheld plans to knock down hundreds of homes in Liverpool. (Telegraph 17 Feb 2006) essentially because not enough people want to live there; and on the other hand, in the South East, housing estates will be built on cricket pitches and back gardens just to ensure that we do not build on more than 10% of our land.
It doesn't have to be this way. In European countries with a similar density of people per square mile, such as Germany or Switzerland, spacious homes in green neighborhoods are the affordable norm.
The architecture and design expert Kevin McCloud (of Channel 4 Grand Designs fame) sums up the situation well when he says that says that what many people want is a house with a bit of land, some chickens and local facilities.
His opinion is that we should scrap the planning system, allowing farmers to sell their land for the construction of homes. He says that the "green belt should be junked" because it is an outdated concept designed to trammel development and to preserve the distinction between "town" and "country" as enshrined in the 1949 Town and Country planning act. The concept of the greenbelt as a green lung or an accessible amenity for a city is patronizing given that so much of the green belt is inaccessible.
This is backed up by David Miliband, the communities' minister who has said that the 500,000 new homes to be built in the south by 2016 will not ruin the countryside and that opponents should "get real" (FT Sept 17 2005).
Our present need for large scale house building is readily apparent when I hear that 350 first time buyers in Bristol queued for up to eight hours to secure one of the 106 affordable new homes before planning permission has even been secured let alone a brick being laid (Feb 14th Times). And as happy as I am for Mark Guard, something with our planning system must be wrong when he can buy a plot of land for £1,000 eleven years ago and then sell it for £3.5 million to a house builder (Mirror 18 Feb 2006).
In case you missed them, here are brief summaries of some of the recent land news
273,800 new homes are being planned for Yorkshire over the next 15 years, threatening swathes of the regions greenbelt.
New homes needed under the plan:
West Yorkshire - 121,350
South Yorkshire - 54,100
North Yorkshire - 42,250
East Yorkshire - 45,050
Yorkshire Post 4 Feb 2006
Proposals to build at least 10,000 new homes on greenbelt land between Hunsdon and High Wych north of Harlow in Hertfordshire.
(Herts & Essex newspapers 17 Feb 2006)
More plans to build on Green Belt land could mean more than 25,000 new homes around St Albans.
St Albans Review and Observer 20th Feb 2006
Plans to build an 8,000 home town on greenfield land on the north-eastern outskirts of Norwich.
Norwich Evening news
Plans for 3,000 - 4,000 new homes on the outskirts of a Suffolk town have been brought back to the drawing board just one year after they were originally rejected.
EADT24 1st Feb
Mar 06