Prices on the up for DIY shoots
Forget the big pheasant and grouse shoots. The big demand now is for roughshooting. And where shooters pay upwards of £100 for a brace of grouse on the finest moors, they are paying £10,000 per acre - two-and-a-half times its agricultural land value (c. £4,000 per acre) - for land that's suitable for setting up a small rough shoot.
That's the reason that Vantage Land's 82 acres land for sale on the edge of the pretty village of Nuffield, Oxfordshire, has had such strong interest from buyers. A rare opportunity to buy woodland, grazing and arable land, it is perfect for the smalltime shooter who will put down 1,000 pheasants and enjoy a dozen 30-bird days throughout the shooting season with a few of his or her friends.
There are two small lakes on the land, ideal for duck. Open water like that attracts wild duck, highly prized by shooters. And the open arable land is perfect for cover crops, which will hold birds well.
In the summer, there are the sporting possibilities of woodpigeon shooting and roe deer stalking in the 18 acres of woodland.
Once so daunting, land management is now easy. A cut of summer hay to sell could cover the cost of game feed in the winter. And the hay store has a small kitchen - ideal for those sociable shoot lunches.
"Shooting land has performed well in recent years," says Vantage Land. "In common with other 'local' leisure uses, there is a lot of money chasing a very few suitable sites. We expect to sell this land soon."
If land prices have risen eightfold for agricultural land across the UK in the last 20 years, the rise in prices of small plots of land for sale suitable for shoots has gone up by twice that amount again in the South-East of England - and it's still on the rise.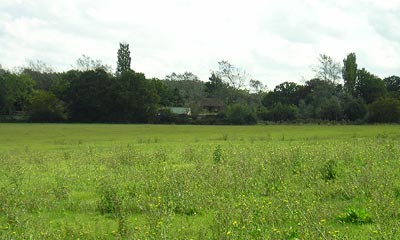 Small shoots need to be at least 50 acres and include a mixture of woodland and open land as well as water. Buyers improve their purchases with tree and cover crop planting, which enhances the local wildlife population for everyone. They also manage predators, which allows a better songbird survival rate. "If you want a conservation cornerstone in a village, choose a shoot, but it's more than that: people who buy shoots also want space to stretch their legs. Shooting land like this is also useful as a pony paddock, for dog walking and wildlife watching, and because people prefer investments that they can stand in and call their own. Among the reasons people have given Vantage Land for buying shooting land is that it will provide them archery, bicycling and even great tree climbing."
For more information, contact Vantage Land on 01727 701640. Visit www.vantageland.co.uk
Notes for editors
Vantage Land was started in 2003 as a specialist land buyer and seller, working closely with landowners throughout the UK.
It has a portfolio of land for sale all over England.
Vantage Land provides a proactive, professional service that puts the needs of the customer first. It is dedicated to providing the best possible results. Meeting its customer's needs is at the core of its business culture.
Vantage Land is located in modern purpose designed offices in Hertfordshire. Visitors are welcome.
Also read:
Oct 06