Pony-owners pay premium prices for paddocks
Small investors who want a stunning return on their money have been putting it into pony paddocks. In recent years, this kind of land has jumped in price from the standard agricultural value (currently c. £4,000 per acre) up to around £25,000 per acre - and it provides them with a handy home for their horses.
There are still bargains to be had, however. Vantage Land is selling 6.5 acres of water meadowland at Pulborough, West Sussex, that's ideal for grazing. At a guide price of £70,000 and in the current fast-rising market for pony paddocks, it makes an ideal investment.
Located near the beautiful Sussex Downs, which is a honeypot for riders and horse owners, Pulborough is just 5 miles from the heart of the South Downs Way, the 80-mile bridlepath across the gently undulating downland of South Sussex that has been attracting horseriding holidaymakers in hundreds since it opened in 1972. A long-distance bridleway for all seasons, it is the most popular in the UK.
Another benefit of this land is the wildlife it attracts. Located just above the junction of the Arun and the Rother streams, it is practically an island, with a road down its third side. Overlooked by houses on the edge of Pulborough, it's a secure piece of land for horses, too.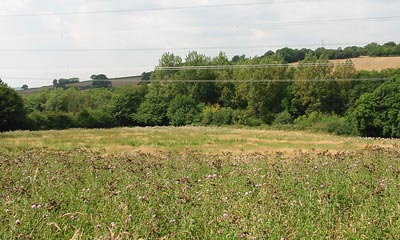 "What people want from pony paddock land is primarily a field that joins their own land or a field that's near their own property - and preferably one they can see from their window. If you have land like that on the edge of a fashionable village or market town then you have a gold mine."
Vantage Land has found that people want more from their pony paddocks than just somewhere to keep their horses. "This is about investing in a slice of the English countryside," said a representative from Vantage Land. "These are people with money to spend on an investment that doesn't provide any great yield or annual return. But they want to put their money somewhere they can be confident that the rise in capital prices will more than compensate for any lack of rent.
"Pony paddocks meet these criteria perfectly. The rise and rise of demand for leisure use on land in the UK has had a commensurate effect on that land's price in the last 20 years.
"There's no reason to believe that it won't continue in this way. Nobody's making any new land."
For more information, contact Vantage Land on 01727 701640. Visit www.vantageland.co.uk
Notes for editors
Vantage Land was started in 2003 as a specialist land buyer and seller, working closely with landowners throughout the UK.
It has a portfolio of land for sale all over England.
Vantage Land provides a proactive, professional service that puts the needs of the customer first. It is dedicated to providing the best possible results. Meeting its customer's needs is at the core of its business culture.
Vantage Land is located in modern purpose designed offices in Hertfordshire. Visitors are welcome.
Also read:
Oct 06