'Sleeper' investors in Peacehaven
There is a new kind of property investor. That figure of "4.4 million new homes", once promoted by the Government, and now John Prescott's desire for 5 million new homes in the next 20 years has produced a "sleeper investor". The predict-and-provide system for town planning has had the effect of encouraging investors to believe that one day any farmland close to UK towns and villages will be required for development. So they are buying land that has little or no rental return and they plan to sit on it for between 30 and 50 years.
This is what's driving interest in 6.5 acres that Vantage Land has for sale at Peacehaven, East Sussex. Located on the South Coast Road at the top of the town, it is in an Area of Outstanding Natural Beauty, it designated a Site of Nature Conservation Importance and it is part of the National Park. Yet, applicants to buy it have told Vantage Land they believe one day it will be zoned for housing or commercial building - and they are prepared to wait for that day because, when it comes, they say they expect their investment to leap upwards in value.
It is located on the other side of the road from housing and next to a golf club house building and course. Added to that, it is well above the floodplain and in no danger of subsidence from mining. It will be perfect for housing one day, admit buyers who have so far approached Vantage Land.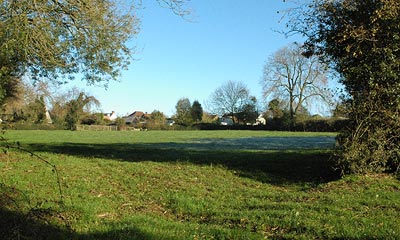 "Our buyers see this as a kind of pension plan," says Vantage Land. "They know there is no planning permission on the land they are buying - and no hope of getting it even in the next few years. But they are typically aged in their thirties and forties and are looking ahead to their retirement 30 years from now."
This tactic worked well for local and regional building companies throughout the UK during the 20th century, especially family-run companies. They bought farmland on the edge of towns and villages to hold for up to 50 years, then sold it or built on it once that land was zoned for development.
"Although there is enormous pressure from the Office of the Deputy Prime Minster for developers to build on brownfield sites and swallow the associated costs, many of our buyers see John Prescott's policy as no more than a passing political fad. They expect a future government to crack under the pressure of UK housing needs and allow more greenfield site development.
"The gradual erosion of greenfield sites around the country in the last 50 years is testament to the fact that no Government can stem the tide of public demand."
For more information, contact Vantage Land on 01727 701640. Visit www.vantageland.co.uk
Notes for editors
Vantage Land was started in 2003 as a specialist land buyer and seller, working closely with landowners throughout the UK.
It has a portfolio of land for sale all over England.
Vantage Land provides a proactive, professional service that puts the needs of the customer first. It is dedicated to providing the best possible results. Meeting its customer's needs is at the core of its business culture.
Vantage Land is located in modern purpose designed offices in Hertfordshire. Visitors are welcome.
Also read:
Oct 06