A different breed of land agents…
Following my offer to publish other people's articles in the monthly opinion section, Vantage Land invited me to interview them at their offices.
Vantage Land are an unusual breed of Land Agent because they act like traditional land agents, in that they offer a wide variety of larger acreages of land, but also share similarities with some of the "newer" land agents - they work out of just one office, believing that the high street shop window has been replaced by the power of the Internet.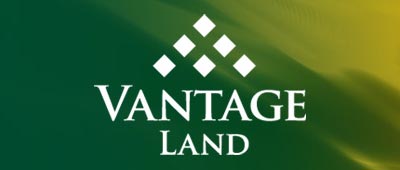 Vantage Land are keen to differentiate from other Land Agents by saying that they are far more approachable to land-buying novices than their traditional competitors. Furthermore, Vantage Land are the only company of which he is aware of who will custom-desdign the lots around the customers' needs. To quote Andy "we will not force a customer to buy a 20 acre field when he only needs 5 of the acres for his pony paddock".
Andy tells me that he has no "average" site, his smallest lot is a tenth of an acre shop car park in the middle of urban Doncaster, his largest a 77 acre site in rural Axminster, with fishing rights and outstanding views of the surrounding countryside.
Vantage Land also sells land with planning permission. Andy was particularly pleased to tell me about a customer who bought three run down barns on 4.5 acres of land from Vantage Land in June 2005 on the outskirts of Winslow, Bucks and who has just "made a killing" by receiving planning permission to convert the barns into modern offices.
Andy mentions that he also presently has a modern barn with kitchen and toilet in 7 acres of land in Oxfordshire that he believes will be ripe for development in the coming years.
It is successes like this that convinces Andy that more and more people will decide to own land, be that woodland, land for recreation, pony paddocks or arable farm land.
And Andy's favorite piece of land at present? 57 acres of land in Raunds, Northamptonshire that has been split onto lots. The land has good road links and is ideal for a series pony paddocks yet the house developer Taylor Woodrow has a development clause on the land. So you get the best of both worlds, recreational land which may prove to be very profitable if (or when) Taylor Woodrow gain planning permission to build houses on the land.
UK Land Directory Comment - Feb 06
Submit your article to UK Land Directory
If you want your article to be published on UK Land Directory, please email us at info@uklanddirectory.org.uk. We will include your article if it meets our editorial guidelines.
Other Comments