Land with Significant Strategic Development Potential in West London
Dreweatt Neate and Savills are presently offering what I consider to be an excellent freehold opportunity in Hayes West London.
The 99 acres of freehold land is in a sustainable location, is surrounded by housing and has good transport links. Whilst the site is currently in the greenbelt there are great pressures for growth in the area. There is an opportunity to promote the site through the Hillingdon Local Development Framework Plan process. I understand that the Guide Price for the site is £6 million to £8 million, though personally I can see this site selling for far more. If you are interested in this land please approach Dreweatt Neate or Savills directly.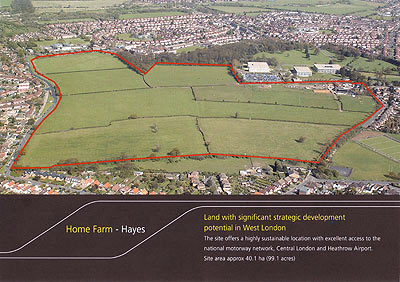 Another interesting piece of greenbelt land with strategic development potential is the flat freehold land bordering a housing estate in Leeds, though you will again need a large budget - almost £300,000 for the 14.5 acres. Vantage Land are marketing this land.
Greenbelt sites with significant strategic development potential show the false hood of politicians who try to put off land investors by peddling the story that all greenbelt land is only worth the agricultural values of under £5,000 per acre. The location of the greenbelt land is all important - just as with housing. If anyone out there believes the politicians, and is prepared to sell some greenbelt land with significant strategic development potential in London for £4,000 per acre please advertise your land on this site - you are pretty much guaranteed an immediate sale as I will be one of those in the queue fighting to give you my money :-)
UK Land Directory Comment - Apr 06
Submit your article to UK Land Directory
If you want your article to be published on UK Land Directory, please email us at info@uklanddirectory.org.uk. We will include your article if it meets our editorial guidelines.
Other Comments